Tuesday, February 01, 2005
Being an arcade gamer of the 80s, I was drawn to the "What Pre-1985 Video Game Character Am I?" survey? Only a few questions but with the ability to select several options (which was nice).
The result was WAY out...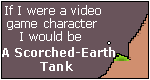 I am a Scorched Earth Tank.


When I have a mission, it consumes me; I will not be satisfied until the job is done. I have a strong sense of duty, and a strong sense of direction. Changes in the tide don't phase me - I always know which way the wind blows, and I know how to compensate for it. I get on poorly with people like myself. What Video Game Character Are You?

but they were spot on with "If you were not a Scorched Earth Tank you would be a ..."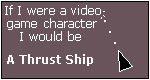 I am a Thrust-ship.


I am small and tricky - where you think I am, I probably am not. I can work very fast, but I tend to go about things in a round about way, which often leaves me effectively standing still. I hate rocks. Bloody rocks. What Video Game Character Are You?

Subscribe to Posts [Atom]