Thursday, August 25, 2005
Was having a leisurely day off work when I heard some strange noises outside. Initially I thought it was kids throwing stones at fences but when I got round to looking out of the window I saw someone half-way into a car across the road, rifling through the contents of the boot. By the time I raced out of the house they were on their bicycles and whizzing past me - I'm sure one of them said "Sorry". What a bastard. A couple of seconds earlier and I would have been able to crash into them and send them flying off their bikes. Of course, I didn't actually have a plan of what to do after that. It would be touch and go as to whether they would be more desperate to escape or give me a kicking. But luckily I didn't have to find out.
Looks like they tried the front lock (which has now disappeared) before smashing the window and climbing through. Once they had access, the pulled the parcel shelf off and rummaged through the boot before making off (the blanket was reclaimed from down the road, as was a small bag, so I don't know what was lost).
As I was phoning the police, an off-duty policeman jogged by who had just seen them cycle past him. Thankfully he took over as I didn't really fancy telling the old lady who was out walking her dog what had happened.
The bastards seemed to have gone for the easy option - a shiny new silver car was sitting right next to it at the time. I can only assume they thought the old car would be easier to break into and would have no alarm (yes, and not a very good one). They weren't locals so it looks like an opportunistic break-in.
Sunday, August 21, 2005
One thing I've noticed this summer has been the number of dragonflies (or similar) flying around. I'm sure they've been there but maybe I haven't really noticed, or just don't recall. Until recently I didn't know what they ate but now I understand that they are hunters. I saw a couple the other day zipping back and forth across the road where there was a cloud of midges; I assume they would be picking them off one by one like dolphins in a shoal of sardines.
What Do Dragonflies Eat?
"The adult dragonfly is a formidable hunting insect. Incredibly agile, it uses the basket formed by its legs to catch insects on the fly. It eats mainly mosquitoes, midges, and other small flying insects."
Here's a lovely one by my parent's garden pond. It such a relaxing place that even the insects are happy to relax instead of disappearing when you get within ten feet.
Friday, August 19, 2005
There is a definite down-side to booking tickets in advance to save money. It is the possibility that it will rain all day. All bloody day. Persistently. Without pause.
So our trip to
Chessington Zoo
looked a wash-out before we started.
Suitably drenched, we made our way from one ride to the next, navigating with a map so sodden that it had the physical strength of tissue paper:
It's amazing how happy kids will be once they are in the possession of a huge bucket of sweets (no, I didn't buy it - do you think I'm mad?):
Ramesses Revenge - what a laugh (for the observer i.e. me).
Here's a photo of the ride I borrowed from ThemeParkReview.com:
First they spin you round and then they lower you head first onto fountains, as you can see from the before, during and after photos of Samantha:
The Vampire is still a great ride - I even took video footage of myself to show how much fun it is. My expression at the end says it all. Just click on the ride photo and the 1Mb video will start playing. Note: The photo isn't mine - I borrowed it from Ultra Chessington:
The Zoo section is good - a relatively small number of exhibits but each is very well set out. What I found most irritating was the number of dumb kids who think the animals are trained to entertain them on cue. Banging on the windows and complaining how boring the lion and tiger were being just seemed so ignorant. I did wonder if we had it round the wrong way where the idiots should be on the inside entertaining the animals - or better still just in WITH the animals. They would stop being boring then...
On the whole I was left feeling that the day didn't seem great value for money but Samantha and friends enjoyed themselves. We booked in advance and that got the tickets down to £17 each. Most people seemed to be paying on the day but I would expect a fair number of those to have discount vouchers which would bring their entrance price to nearly £20, so we saved about 20% (or 40% on a full price ticket). We spent roughly 1 hour queuing for the Dragon Falls - now that was a very good ride but the park was only open 10-6 so we lost 1 hour from our 8 available just on one ride. The Vampire and Ramesses Revenge were much better so our party used those twice. The Rattlesnake was a longer wait than those (maybe 20 minutes) although we got in a second time with Exit passes because Tomb Blaster had broken down while we were waiting on the ride itself (another 20-30 minutes lost). And this was on a wet Friday - I really shudder to think what it must be like on a good day!
Sunday, August 07, 2005
Oooh, that was scarey!
Just got back from watching The Descent and I'M not going caving again, oh no, no way no how.
And I'm someone who hasn't swam in the sea since Jaws in 1975!
Labels: Movies
Saturday, August 06, 2005
The new (England and bits of Wales) football season has started and Wolves have continued to extend their unbeaten record with a goalless draw at Southampton.

Glenn Hoddle took over as manager on the 7th of December last year when the team lost to Milwall but since then there have been one league loss away to Wigan (who went up as champions) and FA Cup 4th round elimination by Arsenal (who won in the final against ManU). An amazing run of form which looks to be continued with today's showing.

The St Mary's stadium, now 4 years old, is a nice enough ground but of course looks and feels like practically every other 21st century ground. I think the only differentiation these days is the colour of the seats and the names they spell out when no-one is using them. If you had painted the red seats blue, I could easily have been watching Reading v Wolves.


But, anyway, another notch on the goalpost:


Had my first "within-a-stadium" pint today - normally I don't arrive early enough or can't be arsed to queue forever but I thought "why not?" As I found out, the reason is that you don't really have long enough and forcing the first pint of the day down your neck so you can get to your seat is not the best of experiences.

As to the match, we dominated the first half and their goalie kept them in the match on a few opportunities.


The second half we weren't as strong but Oakes hardly got troubled. I wish we could have taken advantage of Claus Lundekvam being sent off for a second bookable offence but it wasn't to be. Definitely a better result than when we were last there but then Southampton don't have half their Premiership side left.
Friday, August 05, 2005
KNAC is a strange method for helping me focus on work. Basically it is a wall of noise that blots out distractions - it IS, as they say, "the loudest dot com on the planet". But it works. You don't often get to understand what the songs are about as they can tend to be wall-of-sound guitars with singers gargling scrap iron. One non-exception is a current favourite of mine where they mix male incomprehensible-growl with female beauty on "Wish I Had An Angel".



I wish I had an angel

For one moment of love

I wish I had your angel

Your Virgin Mary undone

I`m in love with my lust

Burning angel wings to dust

I wish I had your angel tonight



I used good old Google to find out that the band were NightWish and so ended up at http://www.nightwish.com. Hey, a Helsinki-based band! Went there for Big Holiday so positive feelings already, even before you see the band.
Tarja Turunen - babe! I found most amusing her thoughts on "Place you'd like to go:Exotic, small island somewhere far, far away. No tourism, no Finns. Only silence." I remember being in the middle of Finland thinking "my god, it's bloody quiet here" - although you could get a fantastic mobile phone reception!
I must find out what "Perrrkkkele" means...
I LOVE this fanart - they look just sooo non-threatening :-)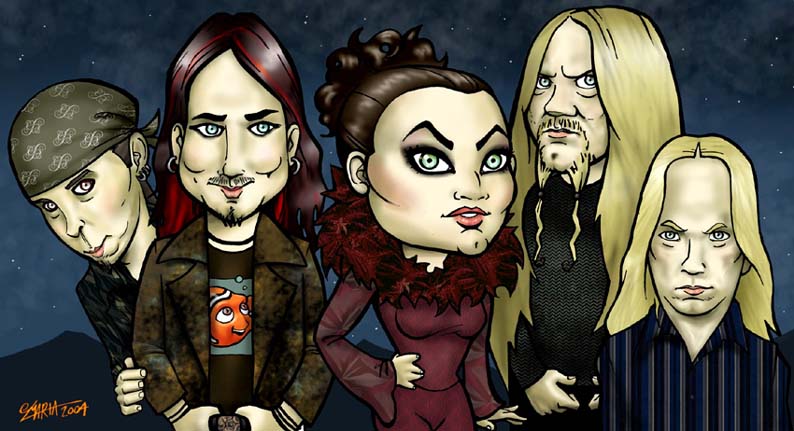 Subscribe to Posts [Atom]